I'm Jaime Blair.
I help Intuitive Coaches talk about what they do to inspire a

full-body yes

from their dream clients.
Networking that doesn't suck.
(it's actually fun)
Get on the exclusive invite list for my weekly Goldilocks Networking call.
It's totally free, entirely entertaining, and full of female entrepreneurs, coaches, intuitives, creatives, healers, and misfits. We've taken out everything that sucks about networking and made it lovely.
Join us and make biz besties and gamechanging referral partners. (Sorry, no guys allowed.)
YOUR BUSINESS IS EVOLVING...
Can your message keep up with your mission?
You're an Intuitive Coach. You've got expert-level coaching skills and use intuition, subconscious work, energy healing, or spiritual practices — methods and modalities that are both powerful and invisible. You transform your clients' lives, personally and professionally.
Your tools are intangible, but your results are undeniable.
(it's just kinda hard to explain)
Being able to describe your work effectively so people pay attention is critical to your next move. You're evolving and ready to turn your passion for healing others into a crusade.
You're playing on a bigger stage (or you're ready to).
Perhaps you're offering high-ticket services, memberships, or training others in your modality. You're growing your audience, getting media exposure, or speaking on stages and podcasts.
You're in growth mode.
Knowing what you do and the massive value you bring is not enough.
You need to be able to talk about your work so your audience not only gets it,
they're inspired to take action. ✨
"I can't move to the next level in my business until I can figure out a clear message that resonates with my people."
"I need to be more visible, but I'm not totally confident talking about what I do — it's hard to articulate the intangibles."
"Every hour I waste trying to figure out a compelling message is taking time away from making a difference. I wish someone couId just pull it out of me."
BEFORE YOU CAN GET MORE VISIBLE
You need a clear, compelling message that ...
... resonates with your people and inspires action.
... gives you confidence and enthusiasm when you say it.
... establishes what you're known for in the world.
IF YOU WANT TO SHARE YOUR MISSION WITH THE WORLD
More marketing isn't the next step.
Before you go nuts on TikToks and Reels ...
This is a fact:
Marketing only makes people aware of you.
It's what happens after that when they come to check you out that's the clincher.
You need to have a clear, compelling message on a solid platform waiting for their arrival.
If your message speaks directly to them they'll tune in; if it's fuzzy they'll zone out.
To get a full-body yes from your people — the ones who admire you, allow you to shine in your work, and refer you to friends — the following must be true:
They feel seen and understood by you.

They truly get what you do and how you can help them.

They conceptualize your results in tangible ways.

They sense an emotional spark and connection with you.

They see you stand out from all the other coaches.
So, what's the secret to accomplishing this? It's not lip-syncing or silly dances (I promise).
It's having a powerful personal brand and a clear, magnetic message you can describe with such confidence and enthusiasm that your ideal clients immediately understand how you can help them and why you're the obvious choice.
Using squishy transformational language won't get your there. Your people have to see what's on the other side of being empowered, fulfilled, and living on purpose. They need to see themselves in this future you're offering if they're going to invest in it.
This is when your star clients raise their hands and you get booked solid with your new favorites.
WHEN YOU'RE CLEAR, THE STARS ALIGN.
Imagine how it would feel to...
... feel confident speaking on stages and podcasts as an expert because you have a core message you're excited to talk about all day.
... show up in your business unapologetically as yourself and stand apart from the sea of coaches all saying the same thing.
...have a booked solid calendar of dream clients who allow you to do your best work and go on to refer their equally awesome friends.
We'll work together one-to-one to develop your Powerful Personal Brand then put it to work on your website with Captivating Copy.

With this Unshakeable Foundation in place, you'll get more ideal clients, referrals, and mileage from your marketing.
You'll be a natural at speaking about what you do with enthusiasm and confidence.
LET'S DIG INTO THE DETAILS
Here's how it all shakes out...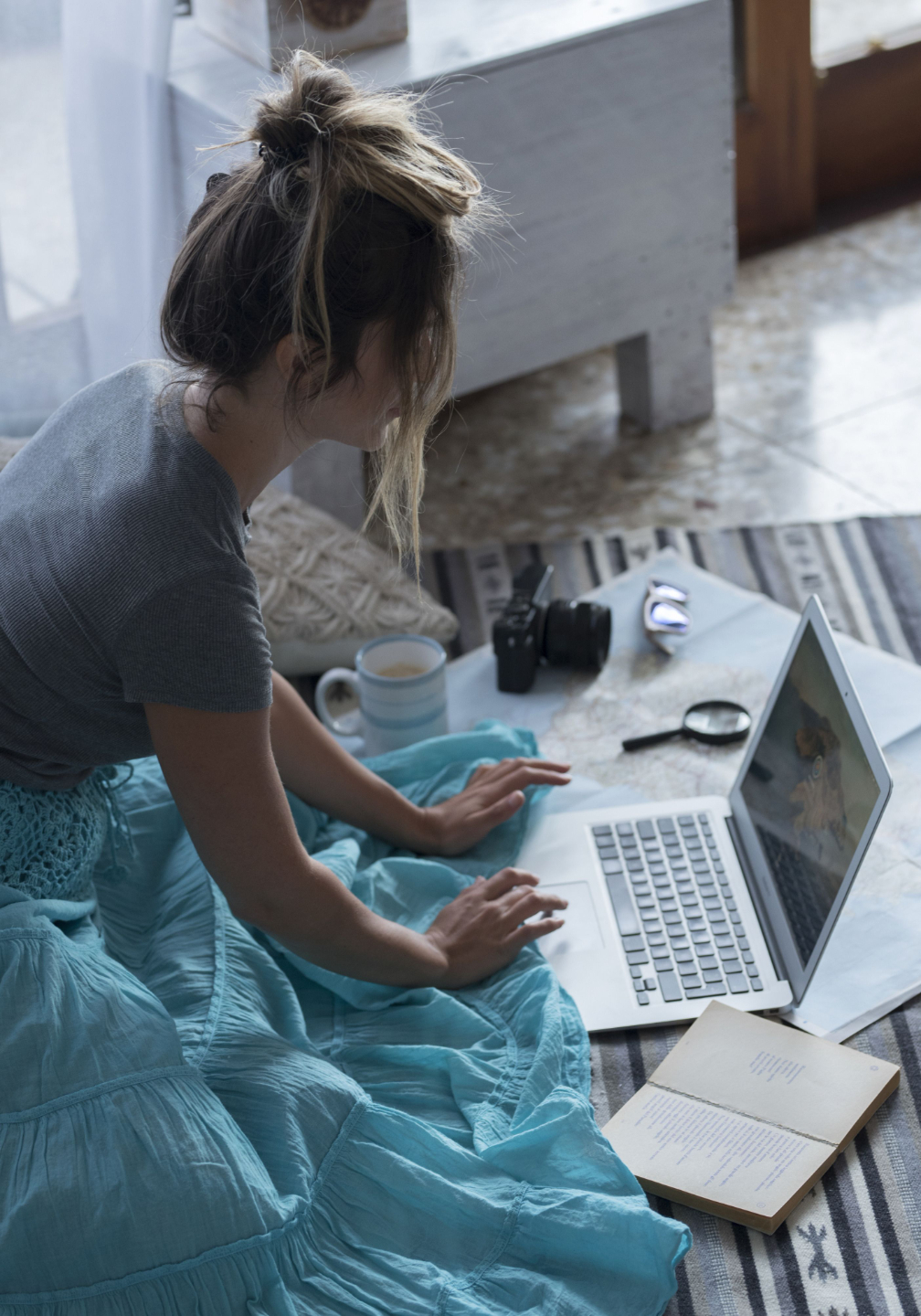 Powerful Personal Brand
During private coaching sessions, I'll guide you through my process to uncover this:
Precisely the people you're meant to serve (i.e., your target market or niche)
The messaging that resonates with them and gets inside their head
The gamechanging result you deliver and its deep-rooted benefits
How to describe your results in a tangible, exciting way that demonstrates the possibilities
Why you're passionate about your work and how to convey that you're the obvious choice for your ideal people
We'll put all of this together in a five-part formula, so you can talk about what you do in any situation from the grocery store checkout line to a networking event (I have scripts!).
Captivating Copy
Here's where we put your message to work in the world:
Over 1:1 sessions and interactive docs, we'll translate your clear brand identity into just the right words that your people need to hear to become your new ideal clients.
We will collaborate on up to four pages of your website copy (including the bio — everyone's fave).
I have two copy collaboration options:
1) for those who enjoy writing 😻🖋
2) for those who would rather shove toothpicks in their eyes than write a paragraph. 😾⚔️
You know who you are.
I've got all of you covered — my process is fun, inspired, and productive.
Either option, your copy will sing to your ideal clients using your authentic voice and the words they need to hear to make them think you're stalking them (that's a good thing in this case).
In the end, you'll have a clear, compelling message you can deliver with confidence and enthusiasm and website copy that makes your ideal people say, "I just read your website, and it's like you are talking directly to me."
This is a thing — I get it all the time. And so will you when I'm done with you :)
To engage and convert dream clients, share your mission, do the work you're passionate about, and run a profitable business, it's imperative to have your Unshakeable Foundation in place.
So, let's get to work...
Let's chat to see if we're a fit...
"Jaime helped me solve a core clarity issue, and now I know truly who I serve. She made me realise that sticking to what I truly love and what comes naturally to me was where I needed to go. The second I did that, the floodgates of clients opened, and my signature course sold out in one week. I feel so relieved to finally have the words to express what I do and not fade on into the background because of bland words with no meaning."
EMMA STARLING
"During our time together, Jaime asked a lot of questions and brought forth clarification and great insight. The final result is copy that I am truly impressed with that represents who I really am and sets me apart from all the other coaches out there. I had tried to do it on my own for months, and in less than two weeks, I finally have what I had been seeking: a professional and fun story."
DANIELLE LAVALLEE WASSON
"Jaime has a magical way to get things out of you in the most natural and fun way. Not many have what it takes to ask the right questions. At the end of our session together I really felt interesting and proud! Jaime is present all the way and goes well beyond what she gets paid to do."
ARIANE TAVAKOL
"Within just a few weeks of working together, Jaime helped me see how impactful and fulfilling my business could be. We got clear on my vision, figured out who I wanted to serve and created offerings that felt natural, fun, and exciting."
EMILY BLACKWOOD
"Jaime helped me craft magnetic messaging for my Life Coaching practice. She took an interest in my creativity and gave me kick-ass, engaged feedback. She helped me become self-assured and confident about sharing my message straight from my heart, without any brain drama."
BECKY CLABAUGH
"Working with Jaime gave me the insight and perspective I needed to rethink my business. More importantly, it gave me hope. My work is finally aligned with my passions, and I'm actually excited to get to my desk in the mornings."
JACKIE TUCKER
Much like you, I'm an entrepreneur with intuitive gifts. I'm part muse, part empath, and every single time I'm on an international flight my seatmate tells me their entire life story and ends up crying. Not my favorite side effect of my superpowers.
Luckily, I don't make my clients cry.
I help them shine.
My mission is helping women who use their intuitive gifts build successful businesses that give them financial freedom while doing the work they were designed to do.
Money isn't the only metric I use to measure success, though.
I believe in doing the thing that makes your soul light all the way up. I'm not saying it has to be easy (love a challenge), but it has to indulge your curiosity and feel on purpose. This goes for life and business — when you work for yourself the two can be indistinguishable.
So, let's all go after the crazy idea that gives us butterflies. If you want help making your dreams wildly successful, consider me your hypewoman.
Fun facts: I'm a high-octane INFP. My roommate is a 16-pound Panamanian jungle cat with a questionable disposition. Drinks of choice are inky black coffee and Italian red wine. Tell me your birthday once, and I'll remember it forever. ☼♌︎ ☽♈︎ ↑♌︎
Let's Talk
Let's get to know each other
Don't be a stranger :)
If you have any questions or just want to drop me a line,
email me at [email protected]
Jaime Blair is licensed to teach the Book Yourself Solid® system, created by Michael Port, based on best-selling book, Book Yourself Solid®. Certain materials contained on this website may be the copyrighted works of Michael Port & Associates LLC.